I'm pleased to announce Eco Alpha 4 : Economy Release, launching June 28th!
We've made a ton of progress since Alpha 3 and can't wait to share it. This release focuses on developing the player-run economy and government.
Check out how food and skills are connected in Eco in the first of a series of videos showing our new features: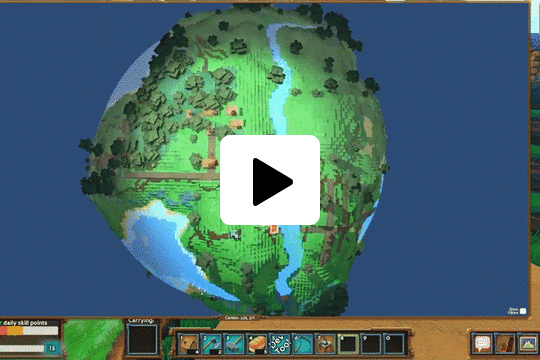 We've added tons of new features, building out the collaborative aspects of the game, including features:
Vehicles

Power system

Spherical minimap

New art style

Logging system

New building system

New food system

New property system

Elections

Taxes

Server browser

Lots more
You can see our graphic progress in this screenshot comparison from our Kickstarter build.
Eco Alpha 4 releases June 28th, and you can buy it and get all future updates (including a Steam when we launch there) from our website at www.strangeloopgames.com/eco.  
Join us early in development and help shape the direction of the game, we're planning to refind this game continuously with player feedback, and dev-tier supporters get access to source code.
After Alpha 4: Economy Release will be Alpha 5: Ecosystem Release, followed by Beta, then Steam Early Access.  Throughout, we intend to build Eco into an entirely different kind of video game, focused on a dynamic social and simulated world that lives or dies based on the actions of the group, where scientific inquiry, politics, and a robust economy determine the success of the world. We hope you'll join us for the ride.
— Team Eco