Been working hard getting the Alpha 4 release of Eco ready for release, this will be a big release with some major new systems in the game, including transport, power, a new building system, logging system, and much more.
Here's a look at what's on the way:
 As always the alpha version of the game is available to buy on our site at strangeloopgames.com/eco, and we'll be giving Steam keys to all our backers when we launch on Early Access later this year.
 We also got a couple new team members, welcome Craig and Steve to the team!
Tons of features and polish for Alpha 4. Added a new 'module' system for buildings. Here's a test of it (those chests are actually Sanding Blocks and Tool Shelves), showing how you can plug modules into a table to get extra benefits and unlock other recipes.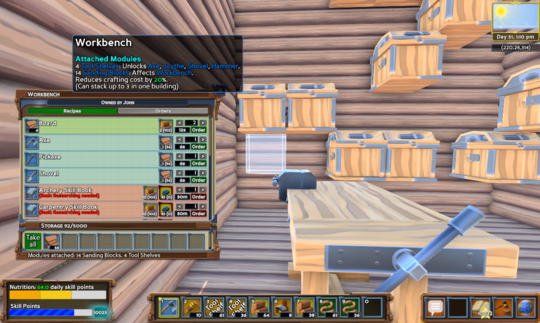 This will be useful in fleshing out the building system, giving lots of ways to customize and create buildings that will have game effects.Also been working vehicles, giving feedback to the player. Notice the new status window when you're driving around.  Here's a video of an unfortunate wooden cart crash:
Getting ever closer to Alpha 4, can't wait to hear what you think of it. As always send us any questions or comments you have or message us on Facebook. Look forward to hearing from you.